Fuji Feather Orange 2014 - Unboxing and Assembling
The box it came in (~15 kg):
The inscribing on the top of it clearly says that it is not a customer who has to assemble the bike but the shop. The shop asked 1.5 krub for the procedure, and it was decided for the pleasure to be mine.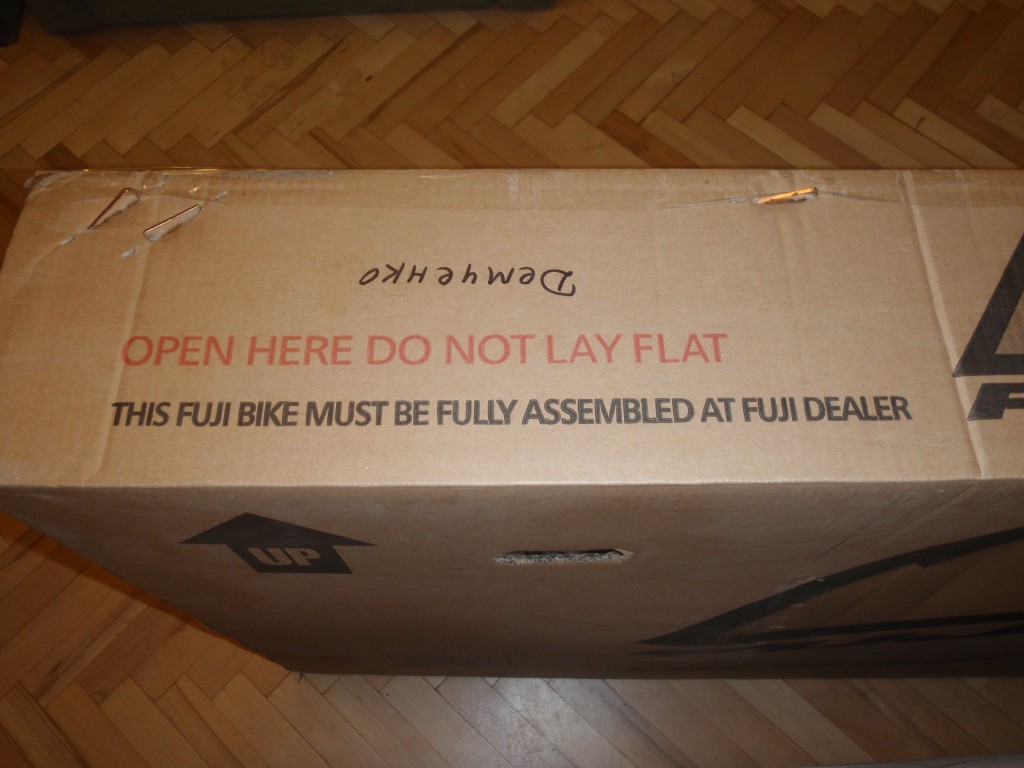 The box made its travel from Taiwan(?) to Russia through Vladivostok customs. It has something denoted as an "Ideal Barcode" on it: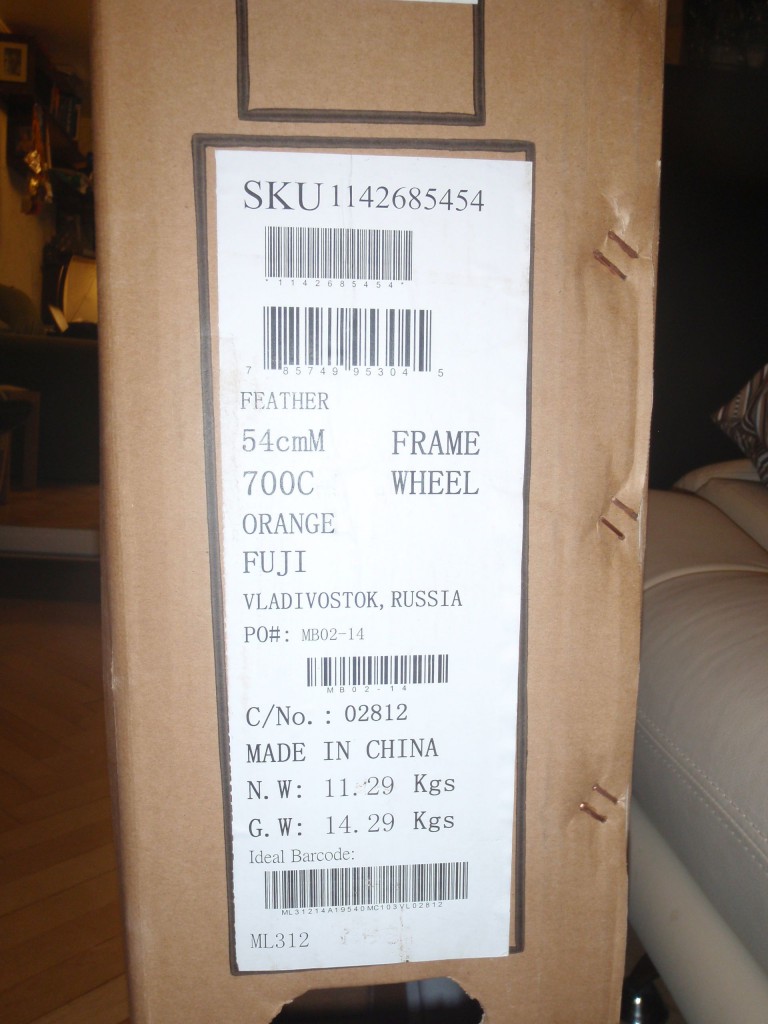 Inside the box lies the bike, partially assembled, all things wrapped in bubbles, synthetic cloth, small details (brakes, brake handles, brake line and jackets) are in a smaller box: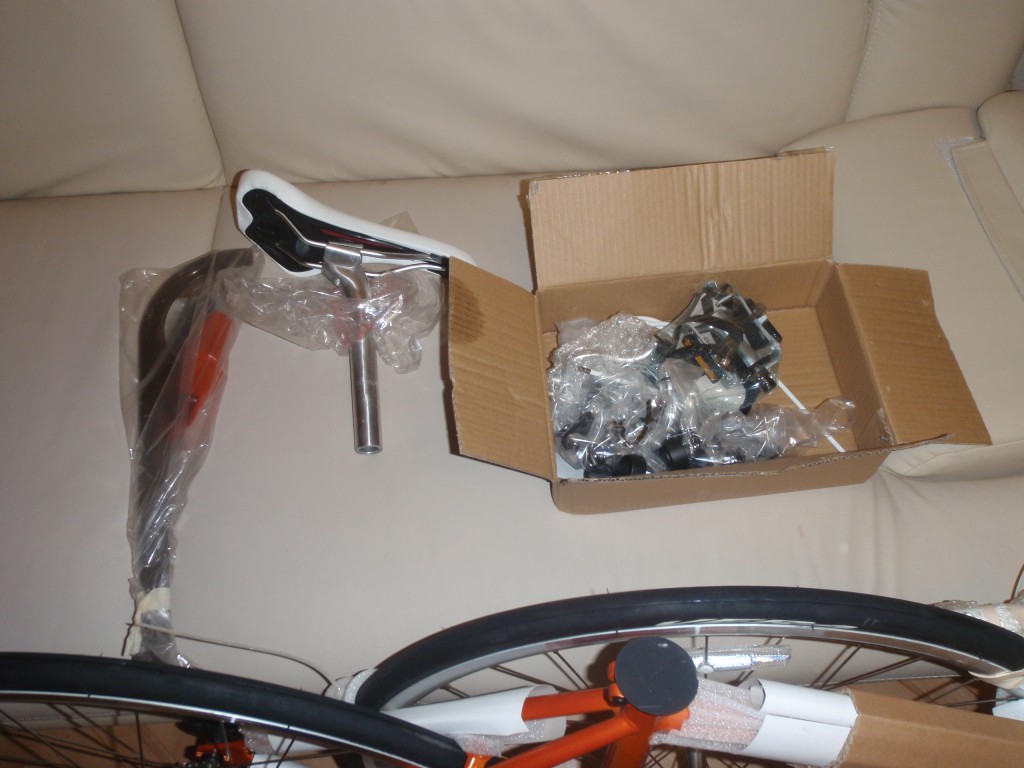 There is also a book (with CD at the back) called "Quickstart Manual". The first thing it does is urging its reader to refer to a complete manual from CD, as if in 2013 (the year of its publishing) every computer still sports a CD drive. Then it describes all existing types of bikes. Not much info on assembly though.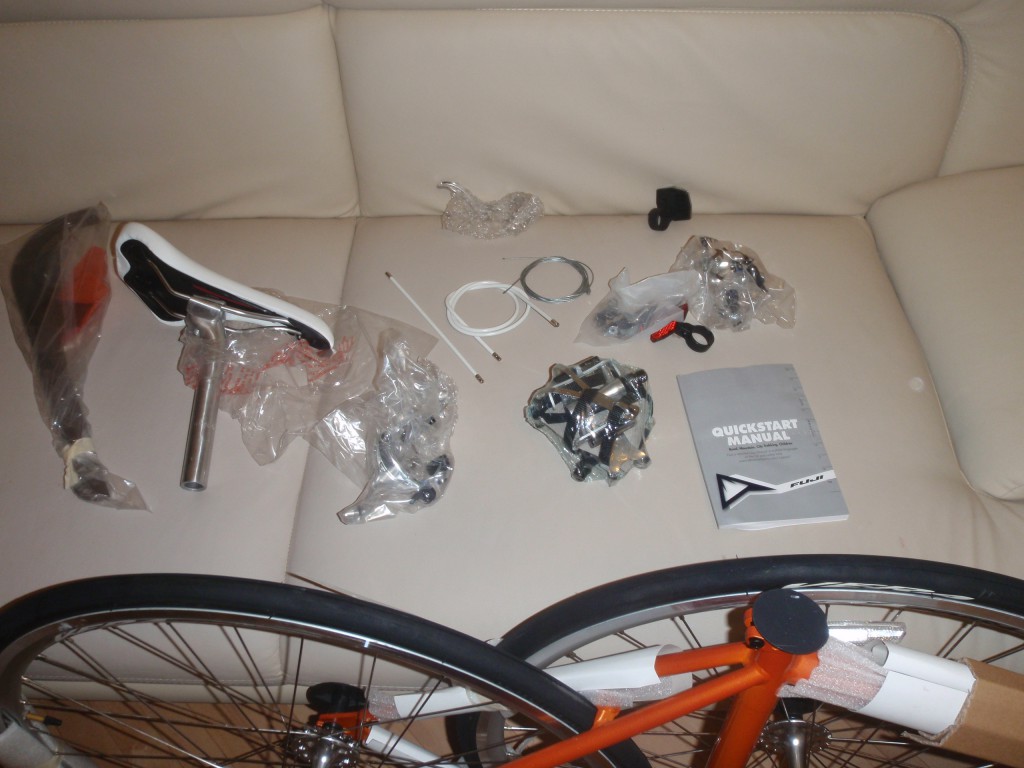 Pedals coming with the bike are awful. They have removable toe clips. Axes are stiff, rotation reveals very high dry friction. I am afraid no amount of lubrication will help it.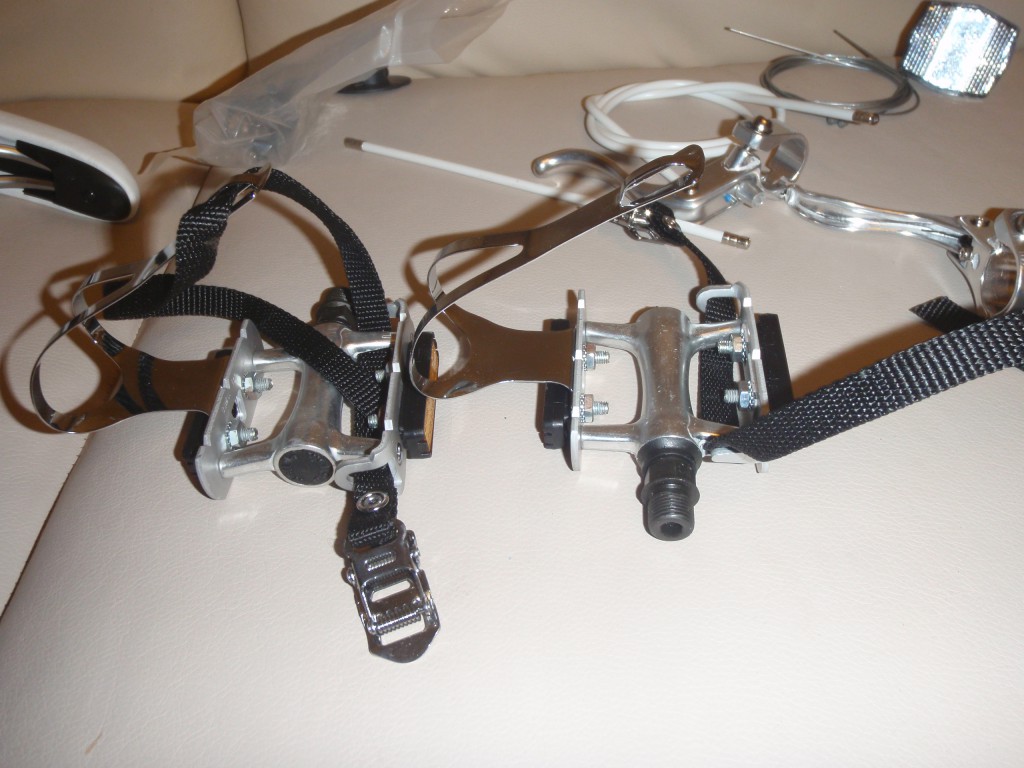 Dual-pivot caliper brakes. No brand is specified on them (as on many other components of the bike):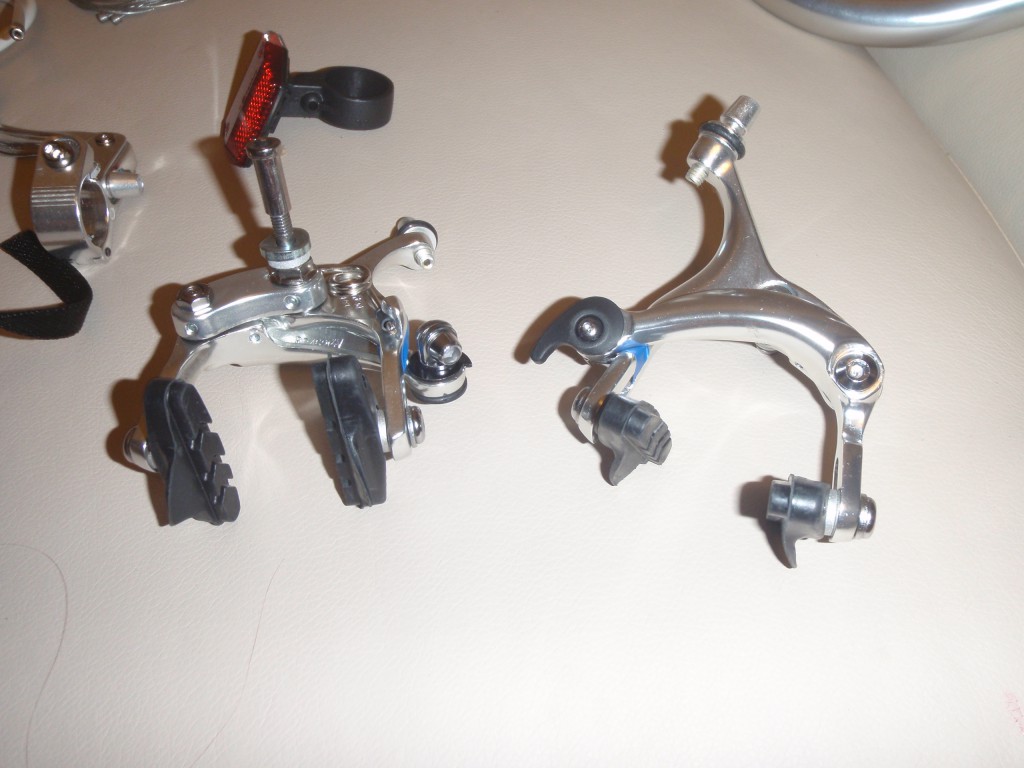 Cat-eyes, front (white) and back (red). I'll install the rear one. Will use a headlight instead at the front. To the left are rolled brake lines: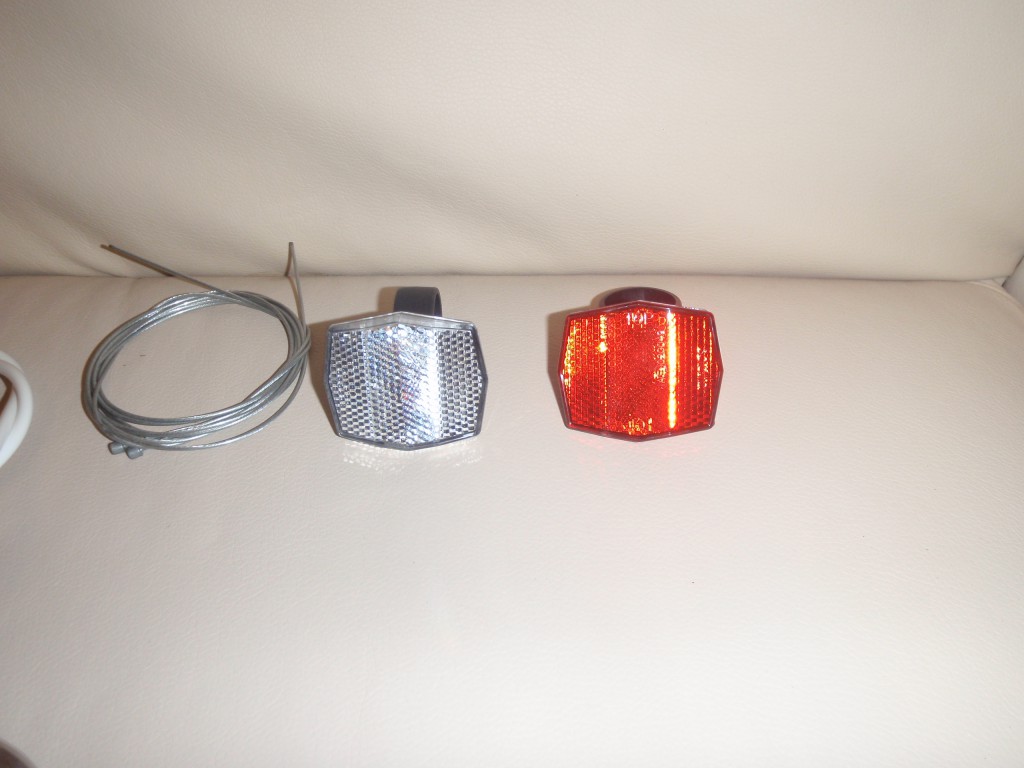 The saddle. The seatpost may seem short for a person with MTB experience. But it turned out to be more than enough for me - I had to insert it almost to the full length to match my height.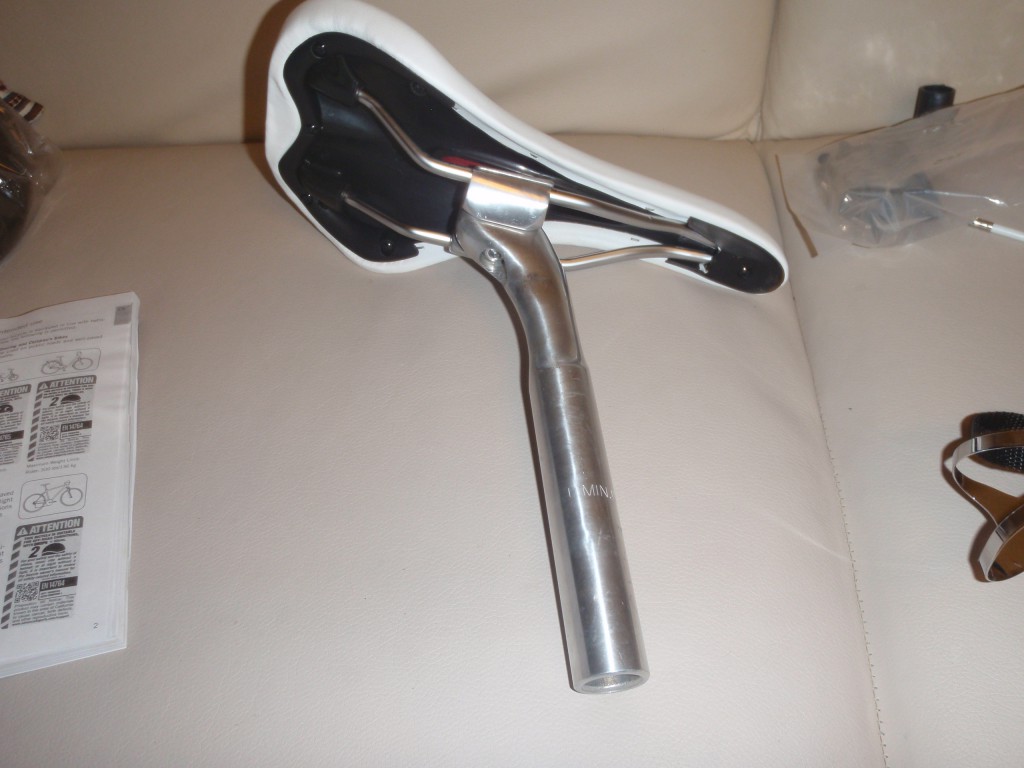 Stem and handlebars, still rotated to occupy less space inside package:
It's time to assemble: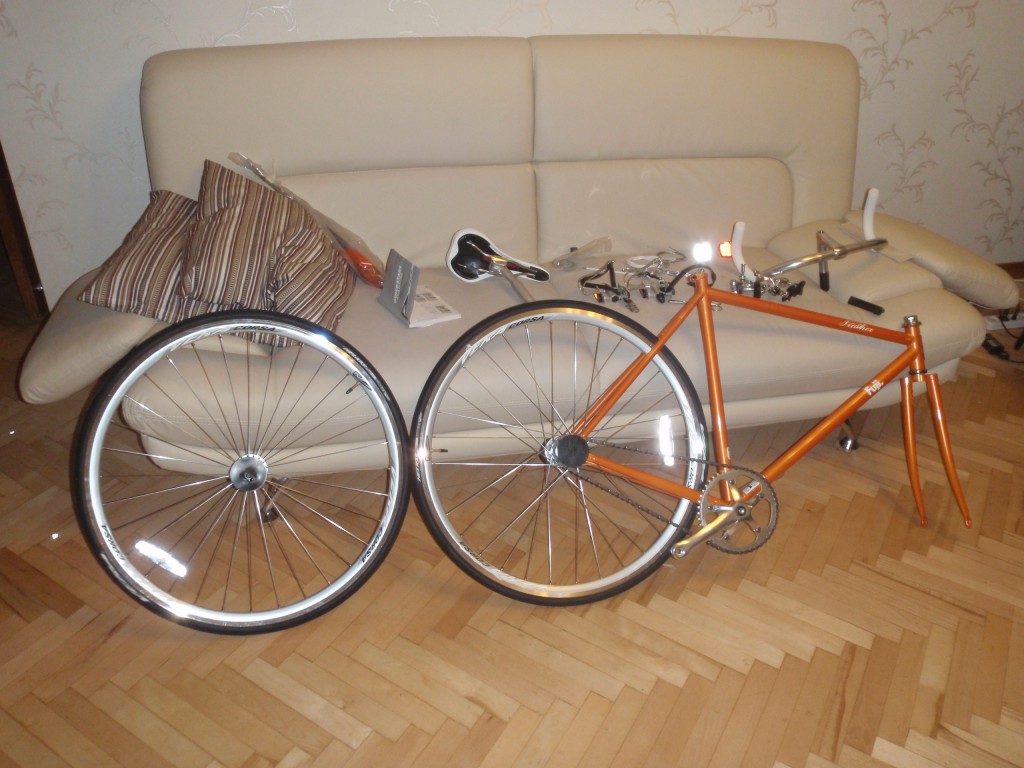 What assembling requires: 15mm wrench, Allen keys (hexahedral ones), a small screwdriver, some thought. "Big Blue Book of Bicycle Repair" was instrumental to understand brakes tuning procedure.
The bike in process of setting up brakes and brake lines: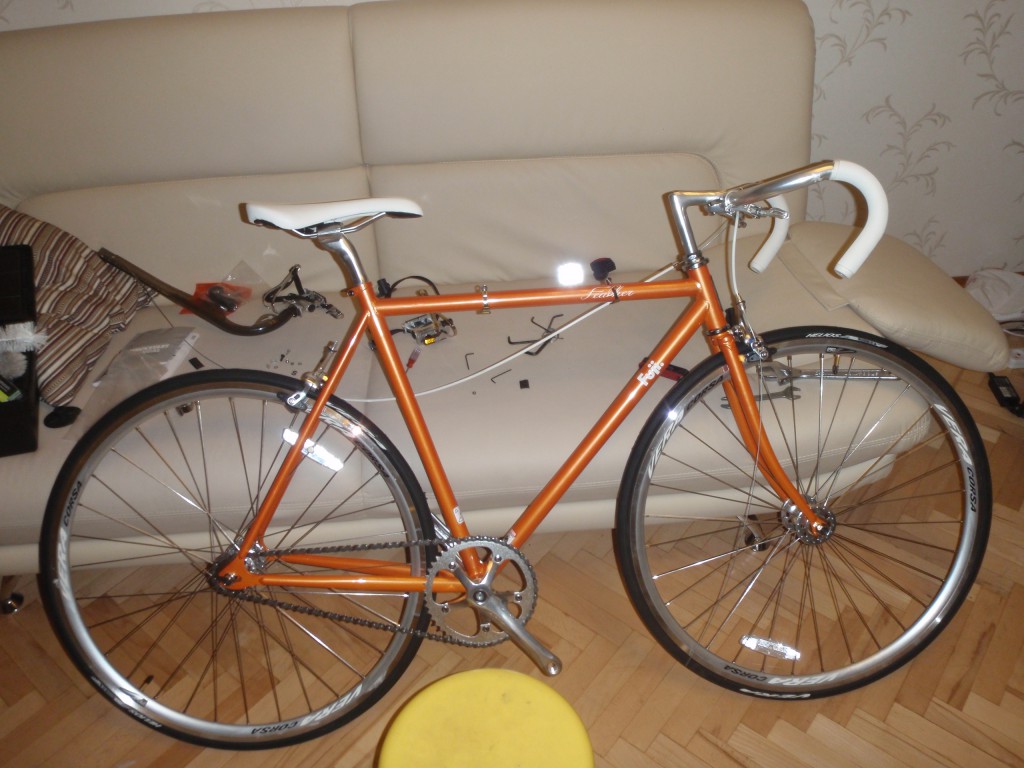 Brake levers: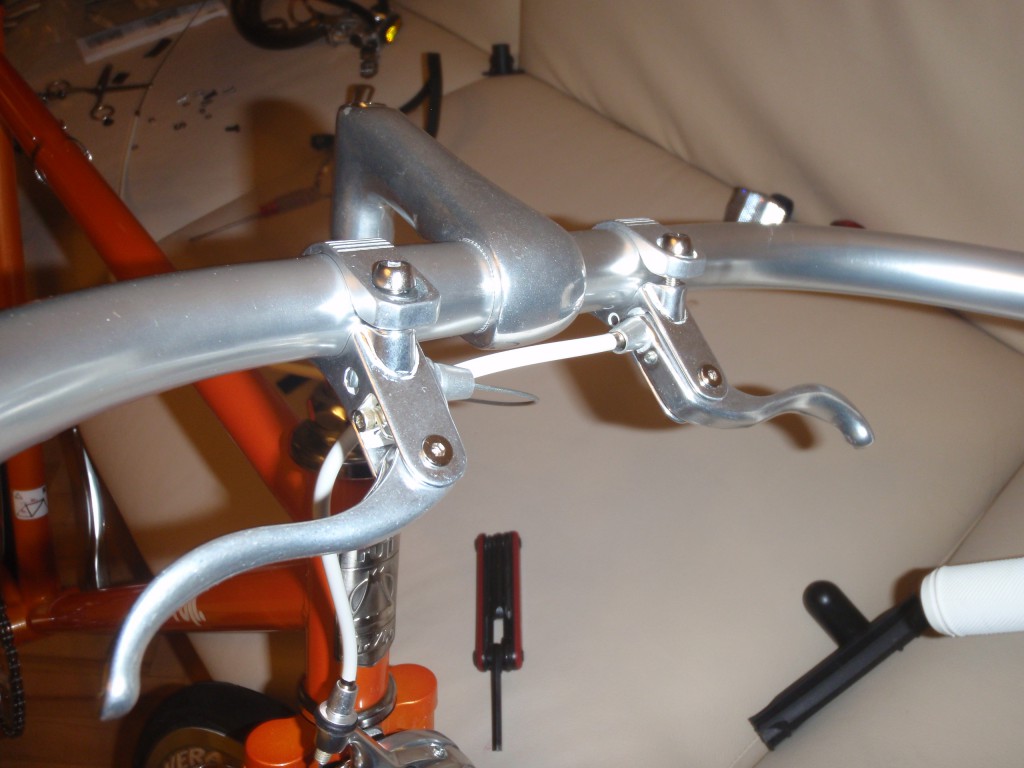 Finally assembled: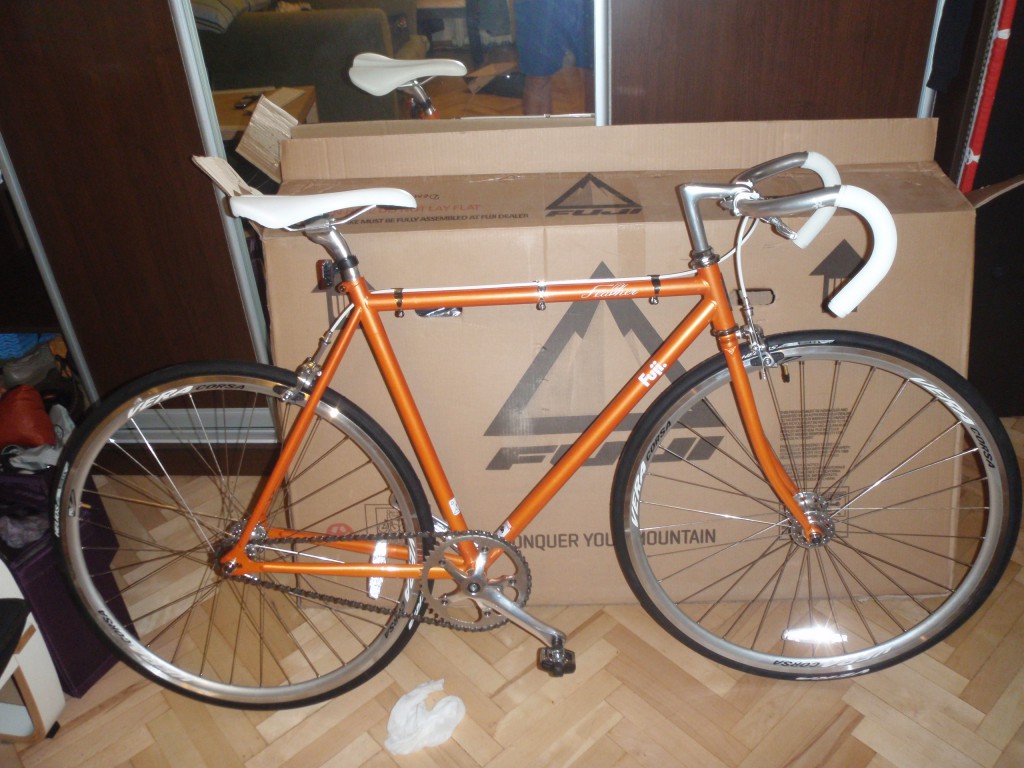 As I mentioned, stock pedals were unacceptable. They were the only thing from the box I disliked. I used Crank Brothers contact pedals instead (though I have no experience with riding with them). I also didn't install a plastic chain guard - do not see much sense in it.
What I really miss now is some fenders to keep dirt from flying all over me. There are no means to attach them to the frame. I'll have to invent something.
Bike complete: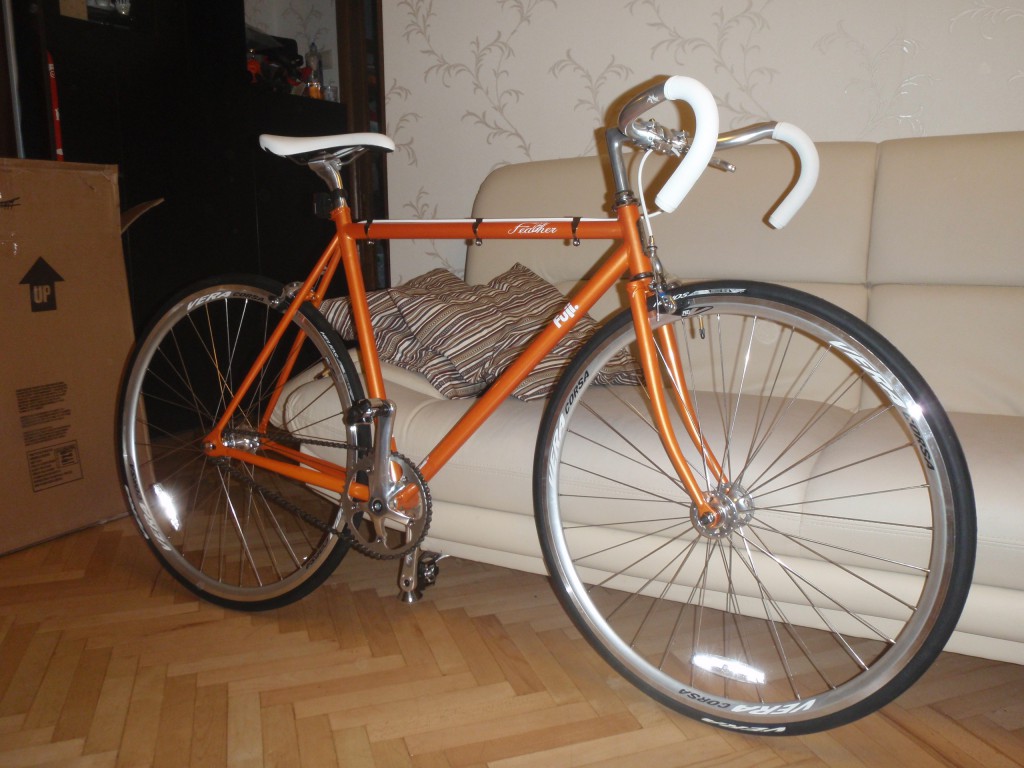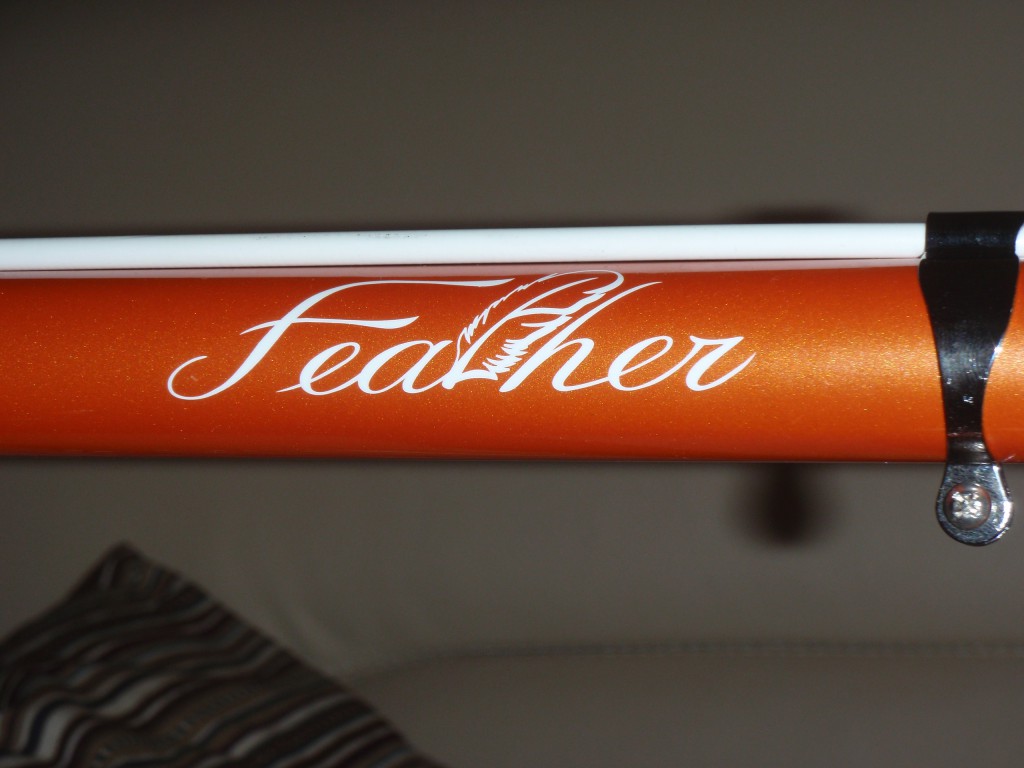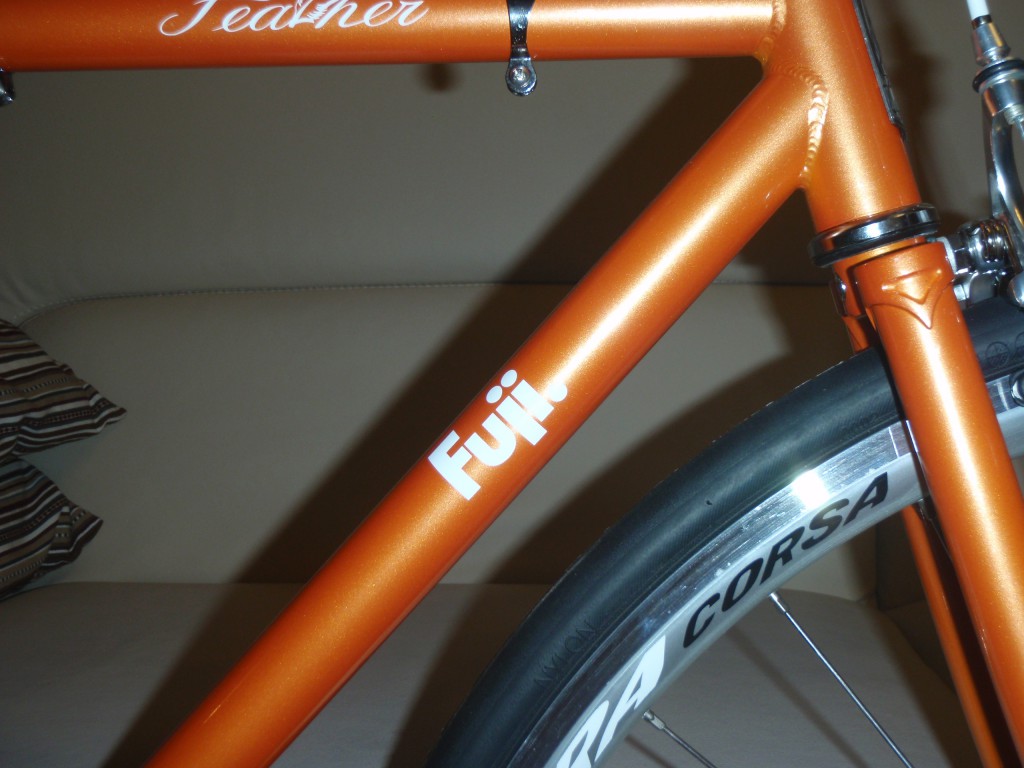 Specs from the official site:
---
MAIN FRAME Custom Elios 2 w/ outer-butted seat tube REAR TRIANGLE Elios 2 FORK Elios 2, crowned CRANKSET Pavement, 44T BOTTOM BRACKET Sealed bearing PEDALS Alloy w/ steel cages FRONT DERAILLEUR N/A REAR DERAILLEUR N/A SHIFTERS N/A CASSETTE 16T fixed cog w/ lockring, 16T freewheel CHAIN F-410, single-speed WHEELSET Vera Corsa DPM27 rims 32h, alloy hubs, stainless spokes TIRES Vera Helios, 700 x 25c, 30tpi BRAKE SET Tektro, road caliper, alloy BRAKE LEVERS Alloy, 2-finger HEADSET 1" threaded, caged bearings HANDLEBAR Pavement, alloy, 25.4mm STEM Pavement, quill, -18° rise TAPE/GRIP Pavement, keirin style SADDLE Pavement w/ steel rails SEAT POST Pavement, alloy FENDERS N/A HEADLIGHT N/A TAILLIGHT N/A REAR CARRIER N/A OTHERS N/A WEIGHT 10.26kgs
---
Update 15.09.2015
Transformed the drop handlebar to a bullhorn one using instructions found on the Internet.
Extracted the handlebar from the bicycle's stem.
Sawed off drop ends symmetrically. Rounded sharp edges with a file.
Turned the handlebar upside down relative to its previous position. Installed it on the bike, attached brake levers.
Wrapped it with handlebar tape.
Some technical photos.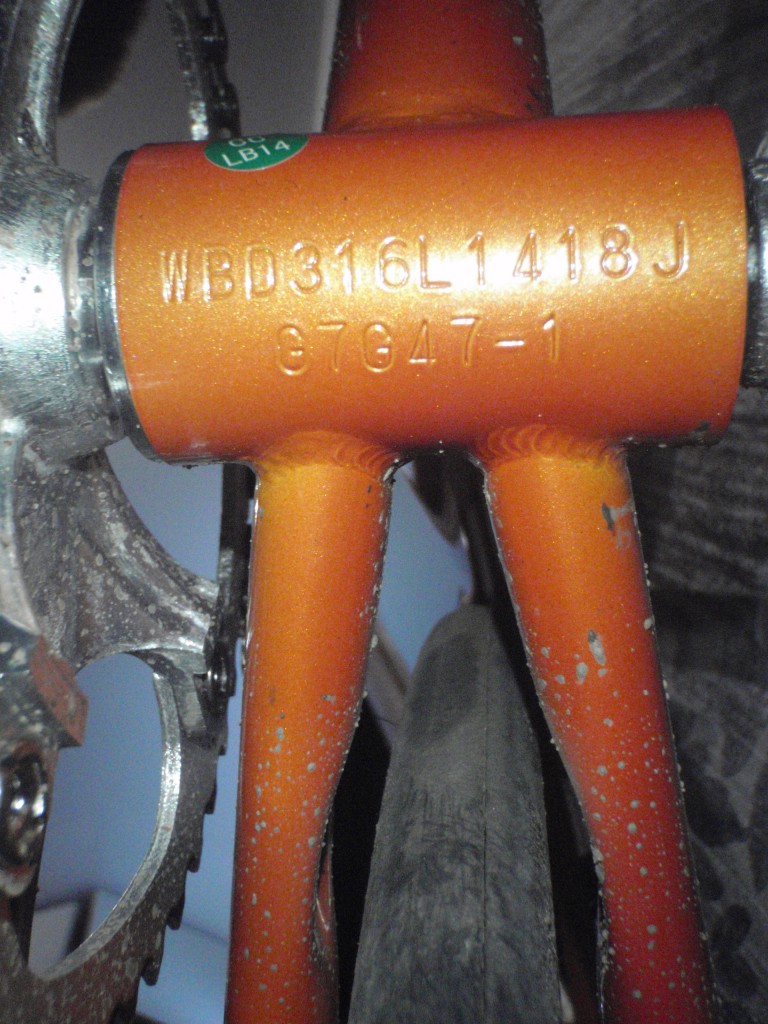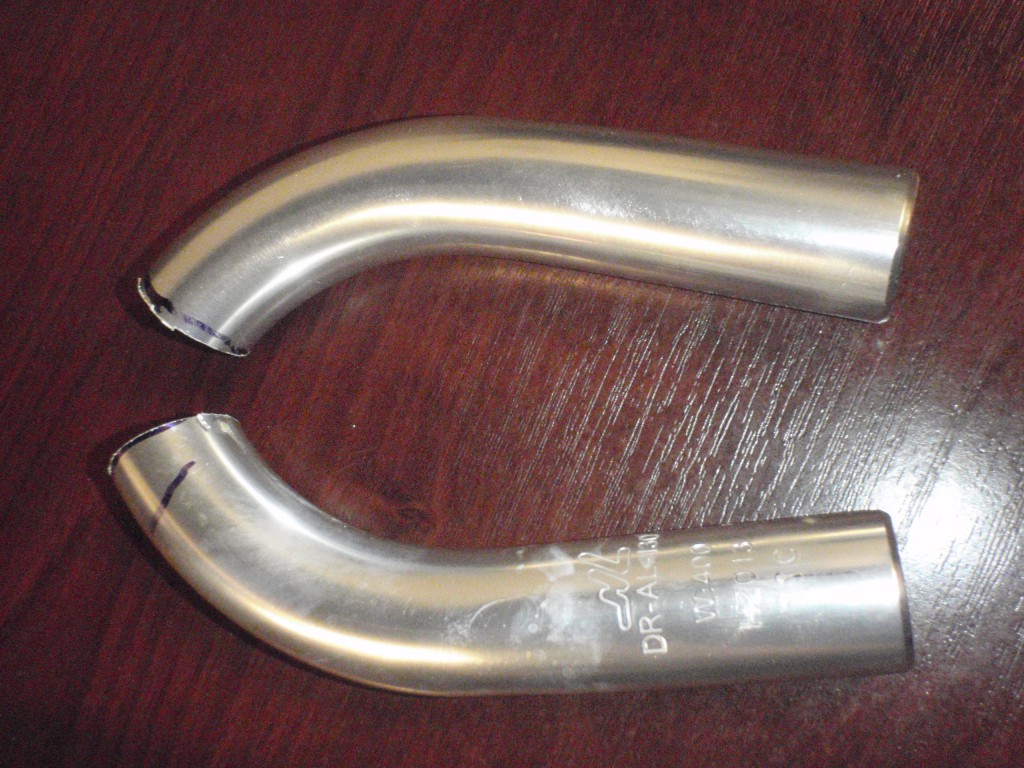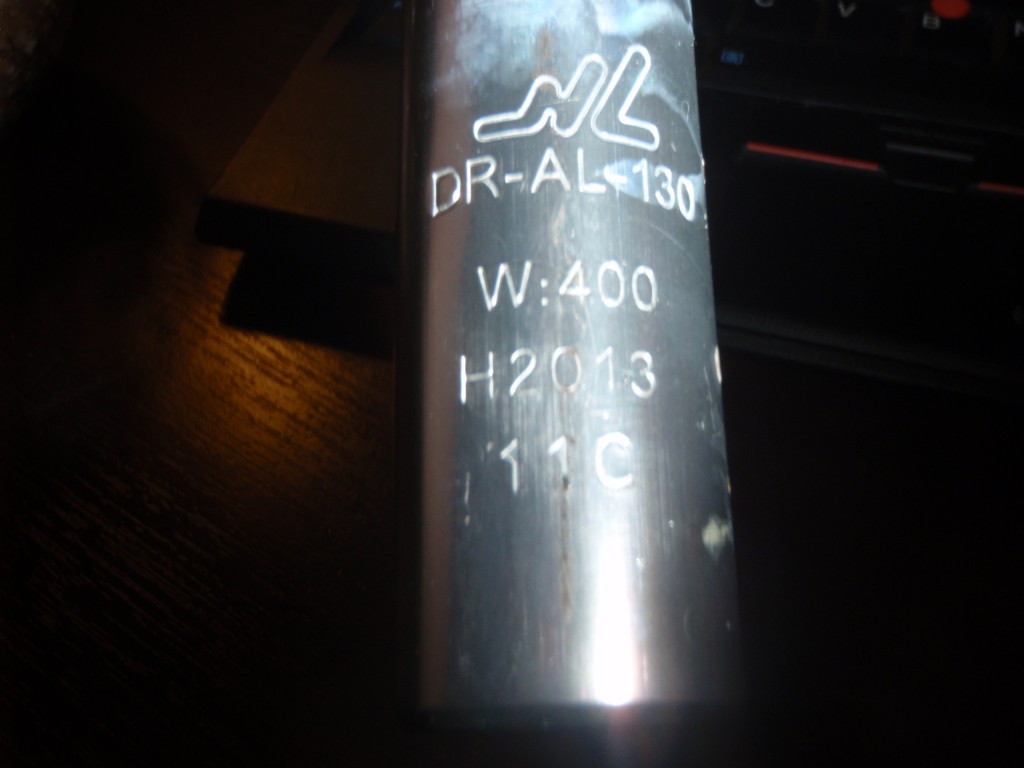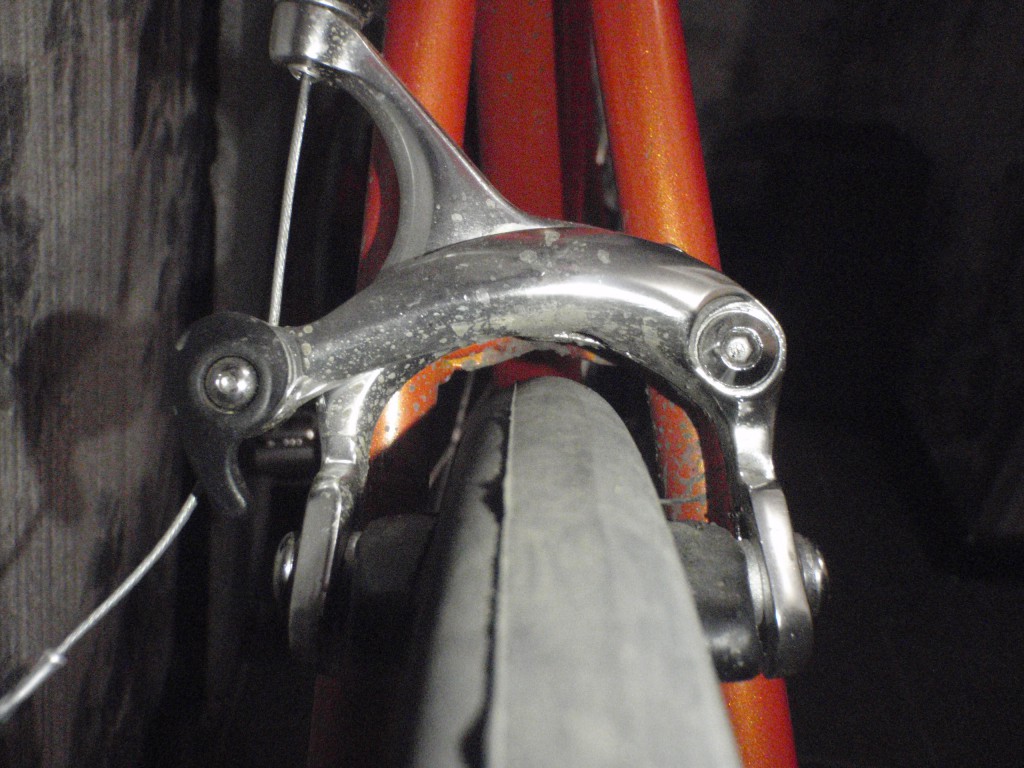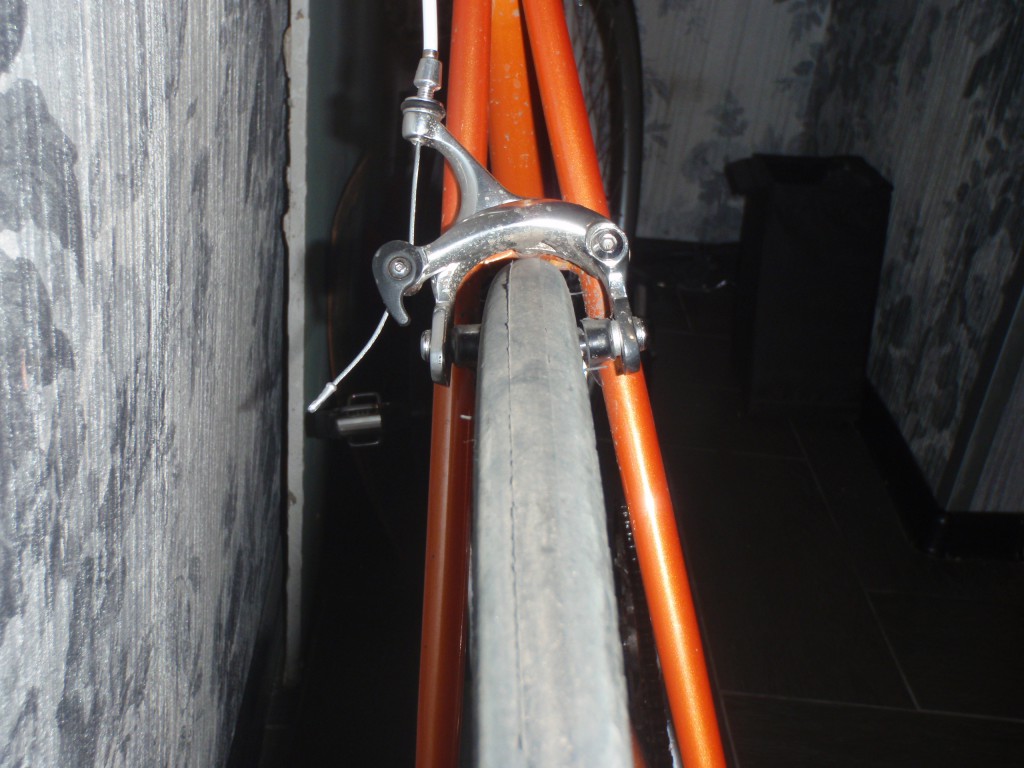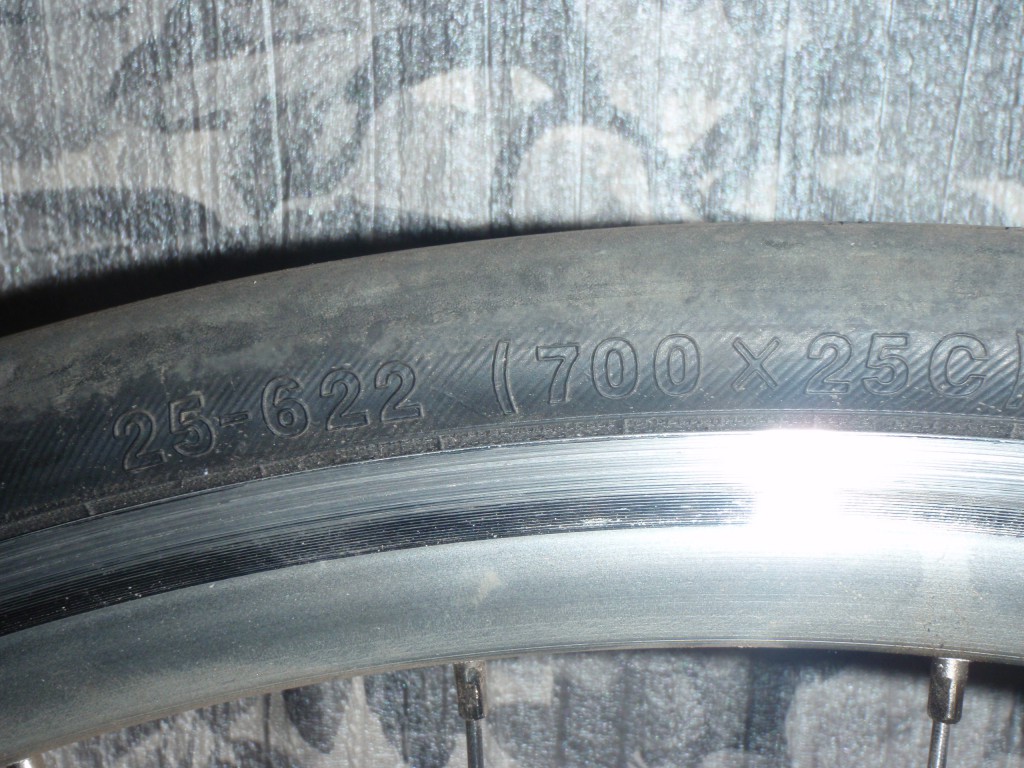 ---